This most dedicated of language schools was established in Dublin in 2010 by Irina Lawless, who grew up in the Far Eastern Russian City of Kchabarovsk and has lived in Ireland since 2007. She is a Russian language teacher with more than 20 years experience. She is a native speaker, University qualified in Russian and Slavonic languages and fully registered with the Teaching Council of Ireland.
The Kalinka Russian Language School in Dublin has continued successfully since 2010 teaching individual and group classes to adults and children alike. The school provides a lively cultural platform with which to bring Irish, Russian and European people closer together in understanding each others culture in this globalised 21st century. The school is currently located at 21 Wicklow Street, Dublin 2.
During these 10 years to now ( 2020 ) students have studied Russian for many different reasons. Some of them have been motivated for business reasons; others for personal and / or professional reasons.
Learning a second language like Russian, is like opening a window into another world. In Ireland today it is increasingly important to be able to communicate, read and understand a second language and so, why not take on the challenge of learning Russian?
The Department of Education has recognised this for many years and Russian is a part of the Leaving Cert Syllabus. Every year since 2010 the Kalinka Russian Language School has successfully prepared students for the Russian oral and written Leaving Cert exams. As part of this preparation the school teaches the ability to speak, write, listen and read Russian. These classes include learning the grammar of Russian. They also focus on widening the students vocabulary.
The Kalinka Russian Language school offers different courses for adults and children:
             a) General Russian for adults
             b) Russian for children
             c) Russian for business purposes
             d) Leaving Cert Russian
             e) Russian for Corporate, Professional and Business Organisations
These are courses tailored for a specific needs. This means there is a flexible approach to teaching and learning.
There are three teachers working at the school.
Maryna Brzozka is a Philologist, teacher of Russian, English and Italian languages. Graduated from Belarusian State University with a degree in Romano-Germanic philology, also graduated from the Republican Institute of Higher Education with a degree in Russian as a foreign language. After graduating from university and before moving to Ireland, was working as a teacher in the department of Belarusian and Russian languages ​​at the Belarusian State Medical University, and as a teacher in the State Educational Institution "Gymnasium # 43 of Minsk". Constantly improves her professional qualifications, participates in international seminars and masters the latest teaching methods. Very experienced in teaching Russian as a foreign language to students from around the world, in teaching Russian language to pupils at school, in preparing pupils for the Leaving Certificate. Knows how to work with students of different ages and nationalities, able to find an individual approach to each student and loves the profession she's chosen.She is a sincere, tactful and cheerful person.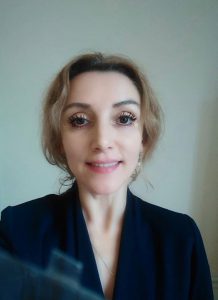 Jamelya Magomedova is a Primary School Teacher and Teacher of Russian language. Graduated from the Dagestan State Higher Pedagogical College in Russia. She has worked as a teacher since 1995.
Experience in the system of L.V. Zankov since 1995, which is training at a high level, with compliance with the highest standards. She teaches children to play, introducing them into the magical world of knowledge.
Also completed:
Teacher Training Course in Teaching Russian as a Foreign Language to adults, Trinity College Dublin
In 2016 the school organised a Russian Language Club to further develop  Russian Language skills. The Kalinka Language Club, in its own small way, provides  an opportunity for students to come together to explore and celebrate the culture and heritage of the land of Pushkin, Tolstoy, Turgenev, Dostoevsky and many others.
The Club has been successful as a means of making friendships and sharing stories, songs along the language journey.
Then, some students further develop their language skills by visiting the vast lands of Russia today, whether it is Archangelsk (Archangel) in the snowy North; Stavropol in the warmer South; Vladivostok in the Asian East or the huge cities of Moscow or St. Petersburg in European Russia. The vastness of Russia embraces both European and Asiatic cultures and in this lies its genius and fascination for many of us in this part of Western Europe.
Learning Russian can be a difficult challenge, which of course takes time, effort, repetition and commitment, no less than the learning of any complicated skill. The greater the challenge the greater the reward. The riches of learning Russian can empower you to float like a butterfly and sting like a bee, linguistically speaking of course.
During the Russian language class with students from Poland, Bangladesh and Ireland. Group A1. All students are very cheerful and positive. It is a big pleasure to teach students who is really interested in the Russian language and Russian culture. Great desire and work usually bring excellent results. I would like to wish my students…
Read More
© Copyright Kalinka Language School 2019. All Rights Reserved.